Ditch the traditional mall experience; these days, Instagram is your go-to destination for indulging in some serious shopping.
While you won't find an Orange Julius for a mid-spree snack, Instagram Shopping has redefined the retail experience within the realm of social media, opening up a vast audience of over 1 billion monthly users.
Instead of redirecting customers from your Instagram account to your website, Instagram Shopping streamlines the process, allowing users to effortlessly select and purchase products right from the app.
With over 130 million users engaging with Instagram Shopping posts every month, it's akin to foot traffic that even a physical store owner can only dream of. So, if you've got products to sell, it's high time to establish your virtual storefront. Let's dive right in.
What is Instagram shopping?
Instagram Shopping  is a feature that enables eCommerce brands to create a digital catalog on Instagram, allowing users to explore products in-app and purchase either directly (Checkout) or through the brand's website.
87% of users credit influencers for purchase inspiration, with 70% using Instagram to discover new products. Previously, brands relied on bio links or clickable Stories for sales traffic. Now, the process is streamlined, offering a quick "see it, like it, buy it" experience, akin to an Ariana Grande hit.
Here are essential terms for Instagram retailers:
An Instagram Shop is a brand's customizable digital storefront, which allows customers to shop right from your Instagram profile. Think of it as a landing page where users can discover or browse all your products.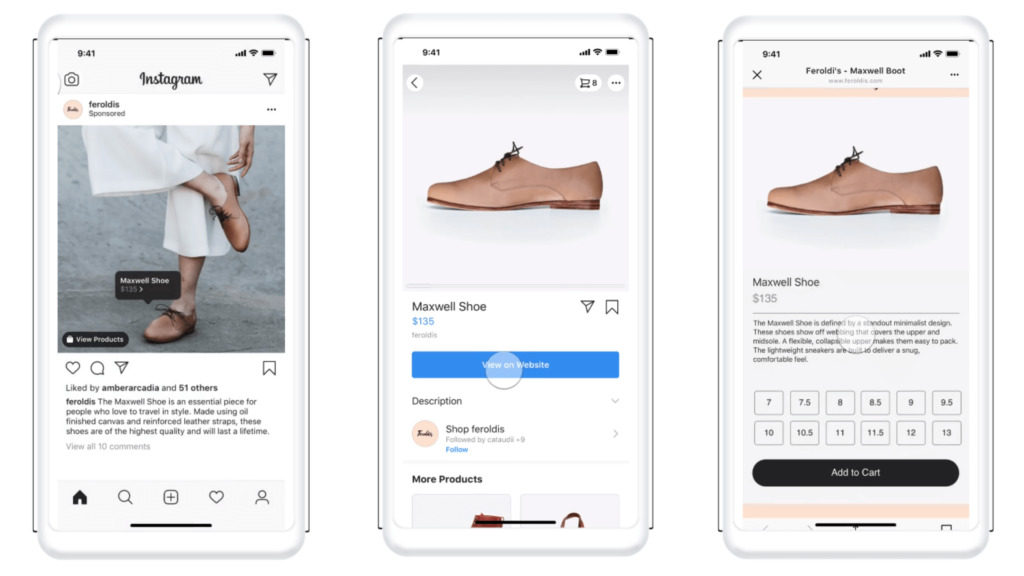 Product Detail Pages display all of the key product information, from the item description to the price to photography. The product detail page will also pull in any product-tagged images on Instagram.
Collections are a way that Shops can present products in a curated group — basically, it's like merchandising your digital front window. Think: "Cute Spring Outfits," "Handmade Pottery," or "Nike x Elmo Collab."
Apply a "Shopping Tag" to label items from your catalog within your Stories, Reels, or Instagram posts. This allows your audience to click for more information or make a purchase. U.S. businesses utilizing Instagram's restricted Checkout feature can also tag products within post captions and bios. (And guess what? You can even employ Shopping Tags in your advertisements! Exciting, isn't it?)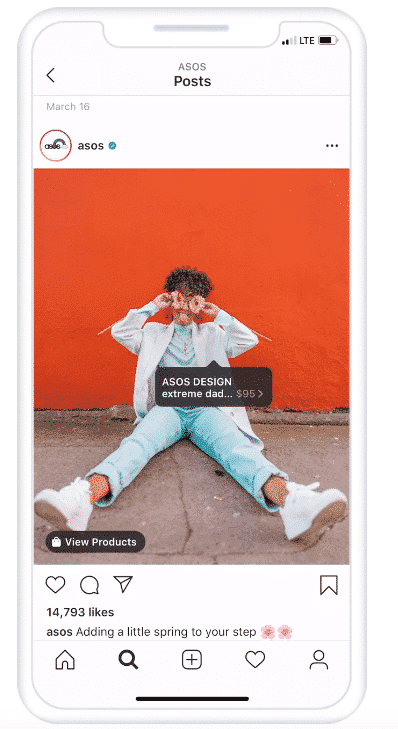 Through "Checkout" (presently accessible in specific regions only), customers have the option to buy products directly within Instagram, eliminating the need to exit the app. (For brands lacking Checkout functionality, customers will be directed to the brand's own eCommerce site for the checkout process.)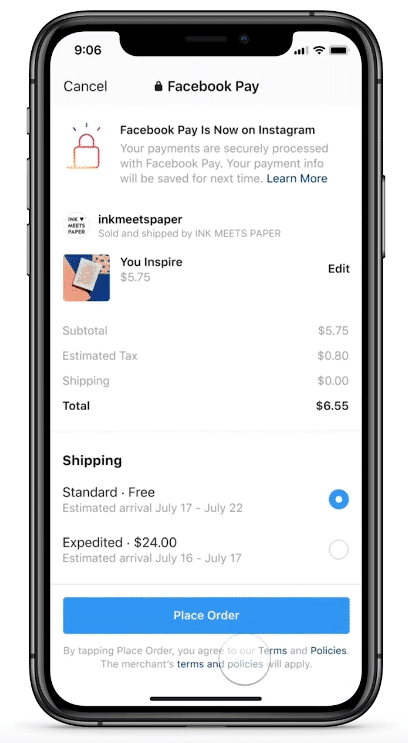 The Instagram app's fresh "Shop discovery tab" serves as a browsing tool accessible to both followers and non-followers alike. Explore products from brands of all sizes, spanning the globe — it's like window-shopping 2.0.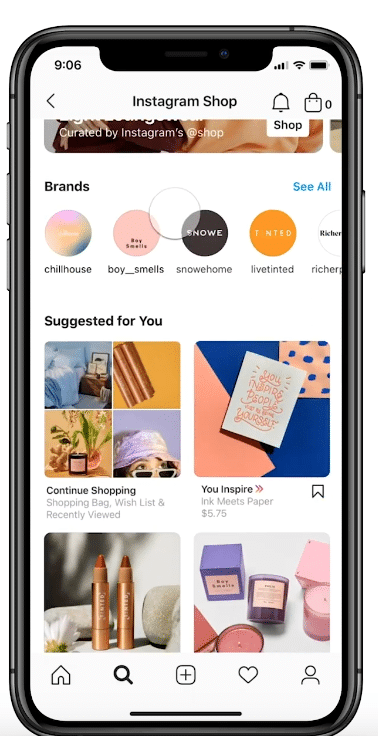 How to get approved for Instagram shopping
Before you can set up Instagram Shopping, you need to ensure your business checks a few boxes for eligibility.
Your business is located in a supported market where Instagram Shopping is available. Check the list to confirm.
You sell a physical, eligible product.
Your business complies with Instagram's merchant agreement and commerce policies.
Your business owns your eCommerce website.
You have a business profile on Instagram. If your account is set up as a personal profile, don't worry — it's easy to change your settings to business.
How to set up Instagram shopping
Step 1: Convert to a Business or Creator Account
If you haven't already switched to a Business (or Creator) account on Instagram, now is the moment to do so. Not only does this unlock Instagram Shopping capabilities, but it also grants access to a wealth of engaging analytics.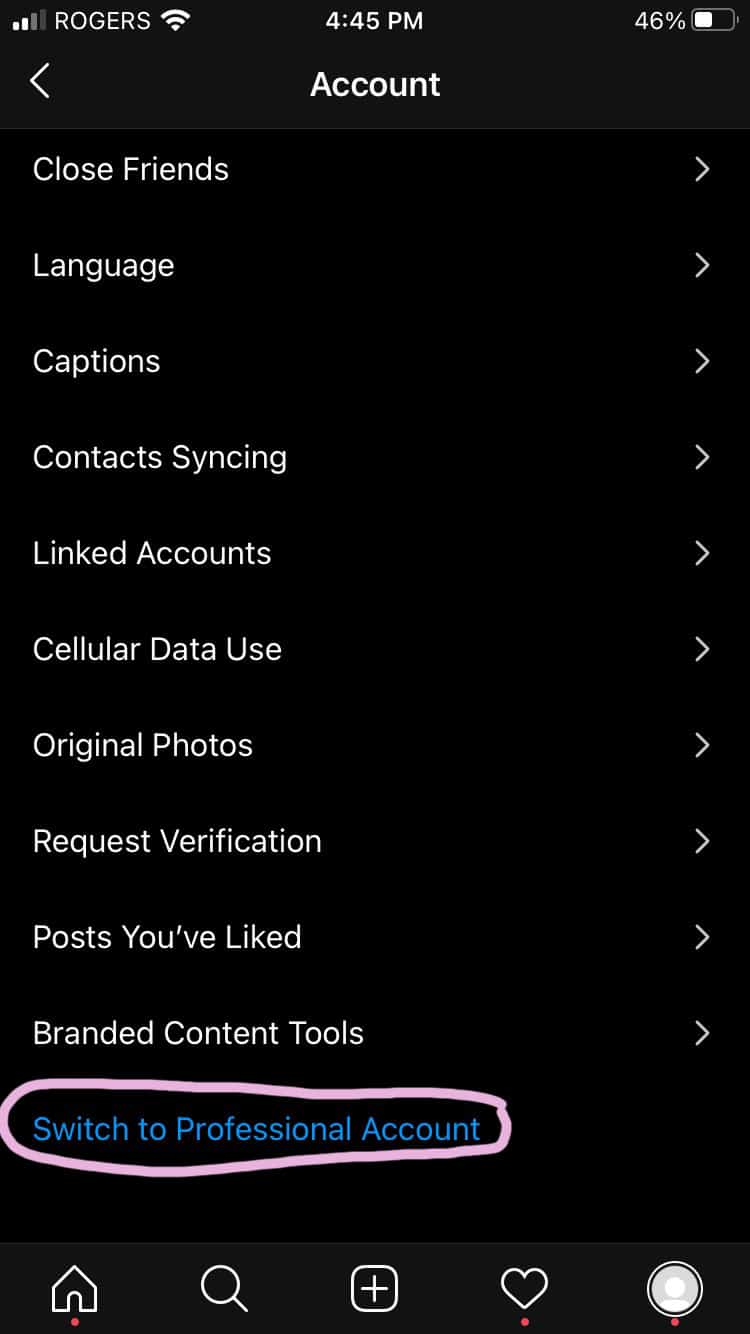 Step 2: Use Commerce Manager to set up a shop
1. Use Commerce Manager or a supported platform to set up a shop.
2. To choose a checkout method, select where you want customers to complete their purchases.
Tip: Checkout on Instagram is recommended for businesses based in the US because it enables people to buy your products directly on Instagram. Get more information on setting up your Checkout functionality here!
3. To choose sales channels, select the Instagram business account you want to be associated with your shop.
4. If you have a Facebook Page, check the box next to your account to have a shop on both Facebook and Instagram.
If you have a Facebook Page, you'll want to connect it to your Instagram Shop to make things flow smoothly. You're no longer required to have a Facebook Page to set up an Instagram Shop.
Now, time to link the two!
1. On Instagram, go to Edit Profile.
2. Under Public Business Information, select Page.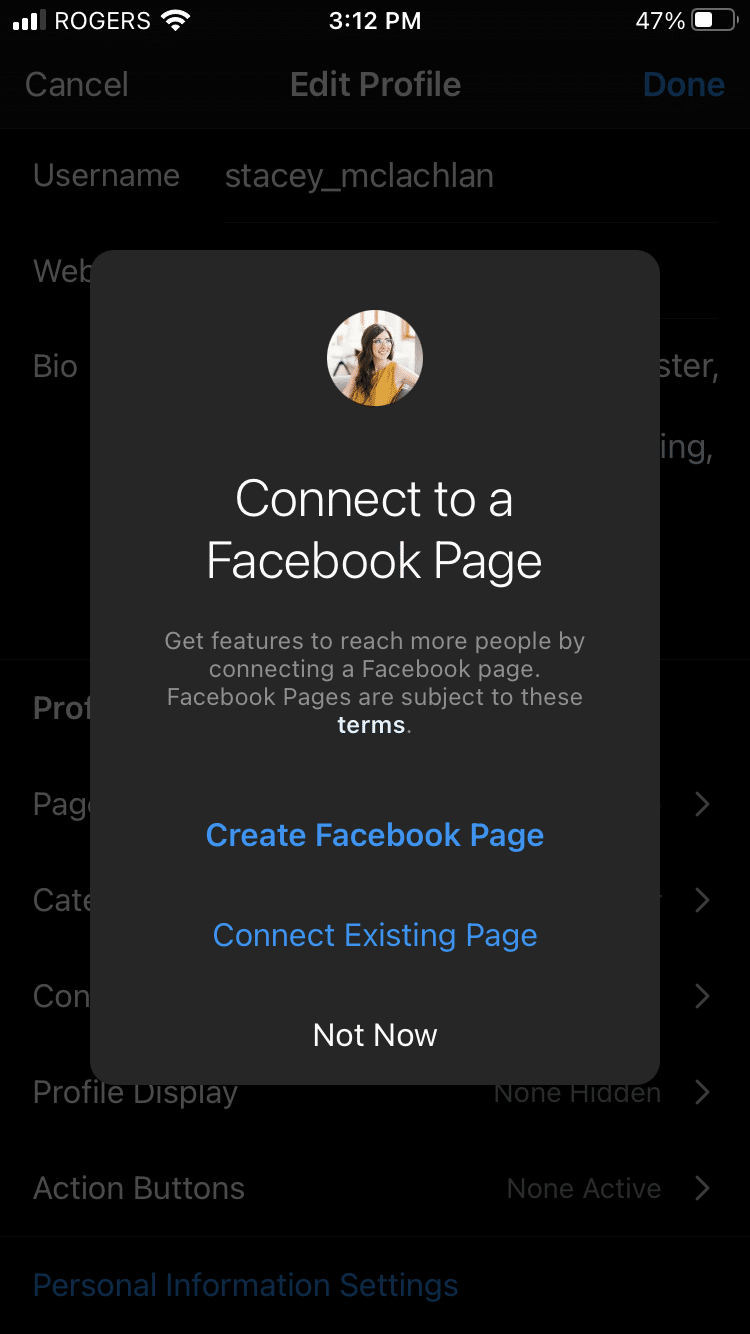 3. Choose your Facebook Business Page to connect.
4. Ta-da!
Step 4: Upload your product catalog
Okay, this is the part where you actually upload all of your products. You've got a couple of different options here. You can either input every product manually into Commerce Manager, or integrate a pre-existing product database from a certified eCommerce platform (like Shopify or BigCommerce.)
Let's walk through each catalog creation option step-by-step.
Option A: Commerce Manager
1. Log into Commerce Manager.
2. Click on Catalog.
3. Click on Add Products.
4. Select Add Manually.
5. Add a product image, name, and description.
6. If you have an SKU or unique identifier for your product, add it within the Content ID section.
7. Add a link to the website where people can buy your product.
8. Add the price of your product that is shown on your website.
9. Select the availability of your product.
10. Add categorization details about the product, like its condition, brand, and tax category.
11. Add shipping options and return policy information.
12. Add options for any variants, like colors or sizes.
13. Once you're done, click Add Product.
Option B: Integrate an Ecommerce Database
1. Go to Commerce Manager.
2. Open the Catalog tab and go to Data Sources.
3. Select Add Items, then Use a Partner Platform, then hit next.
4. Select your platform of choice: Shopify, BigCommerce, ChannelAdvisor, CommerceHub, Feedonomics, CedCommerce, adMixt, DataCaciques, Quipt or Zentail.
5. Follow the link to the partner platform website and follow the steps there to connect your account with Facebook.
At this point, you'll need to submit your account for review. These reviews usually take a couple of days, but sometimes it might run longer.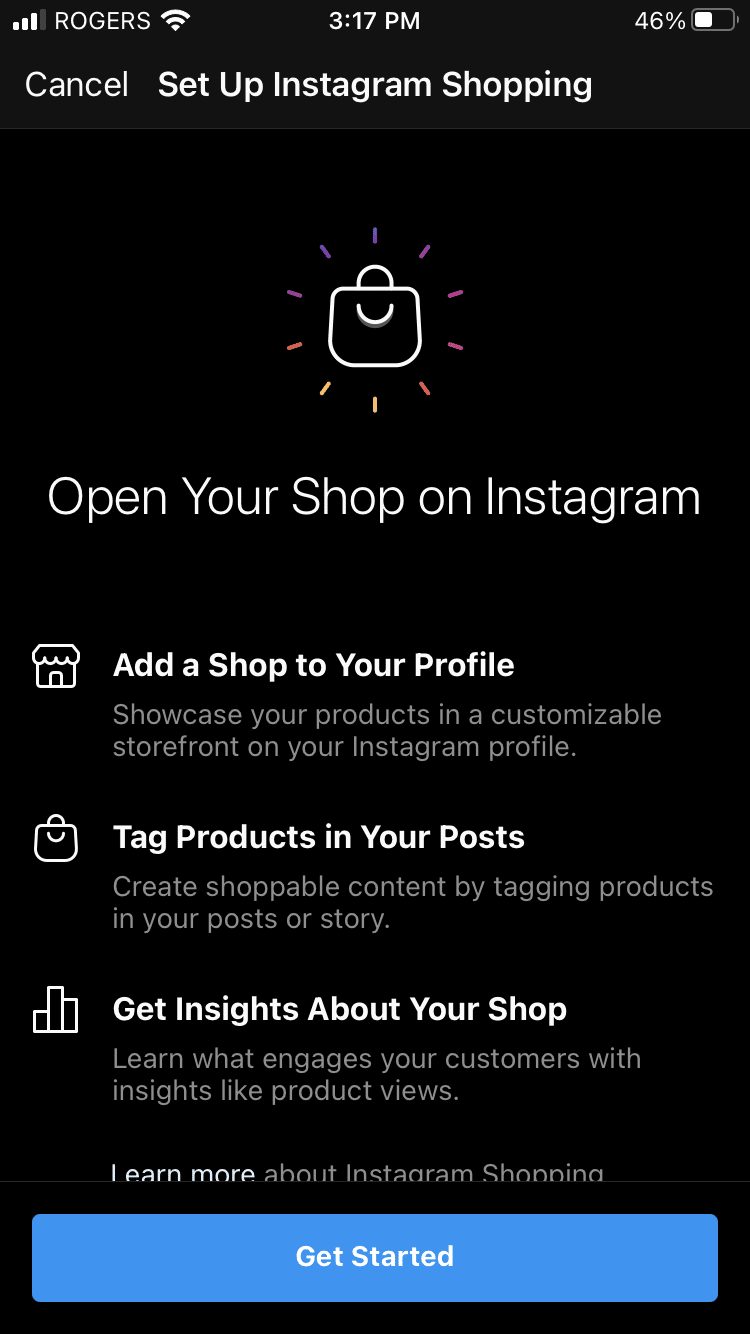 1. Go to your Instagram profile settings.
2. Tap Sign Up for Instagram Shopping.
3. Follow the steps to submit your account for review.
4. Check the status of your application by visiting Shopping in your Settings.
Step 6: Turn on Instagram Shopping
Once you've passed the account review process, it's time to connect your product catalog with your Instagram Shop.
1. Go to your Instagram profile settings.
2. Tap Business, then Shopping.
3. Select the product catalog you'd like to connect with.
4. Tap Done.
The popularity of shopping on Instagram is on the rise, and it's merely a question of when global availability of features like Instagram Checkout will come. Therefore, there's no better moment than now to get started and explore the significant advantages it can bring to your business within your broader social media strategy. It's time to kickstart those digital shopping sprees!